Acquisition of the Birdz and european SilentSoft SA customer portfolio: Four Data consolidates its position in the RTM market
Four Data, a French start-up specialising in the Internet of Objects and innovative sensor solutions, is proud to announce the successful acquisition of the Oil & Gas energy customer portfolio of :
1. Birdz
2. SilentSoft SA.*
This strategic acquisition consolidates Four Data's position in the IoT market and strengthens its presence in energy resource management, particularly in the Remote Tank Monitoring sector for energy.
In this article, we take a closer look at the benefits and opportunities that these acquisitions bring to Four Data and its customers.
*Four Data takes over the European customer portfolio of SILENTSOFT SA.
SILENTSOFT SA is refocusing on its Swiss market and is therefore keeping its existing Swiss customer portfolio. No change to note on this part for the customers of this country.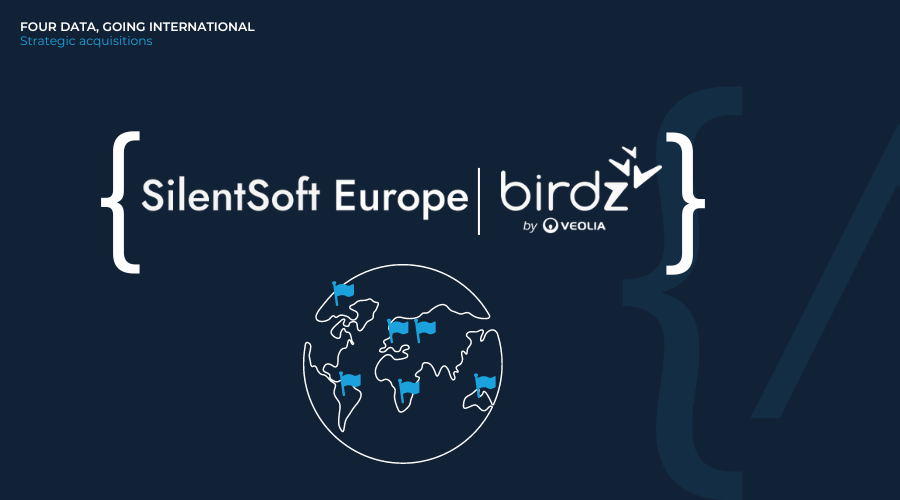 Birdz: Enhanced expertise in the oil and gas sector

About Birdz: Birdz, formed from the merger of Homerider Systems and m2ocity, is a 100% subsidiary of Veolia Water France. A pioneer in the remote metering of water consumption, Birdz deploys unique expertise in the service of the Smart City. A major player in the Internet of Things (IoT) in France, Birdz offers a broad ecosystem of solutions for managing city utilities and preserving the quality of the urban environment. From the design of the sensors to the useful use of the data collected, Birdz masters the entire value chain. To find out more, visit www.birdz.com
Birdz's strategic decision to transfer its oil & gas telemetry business to Four Data considerably strengthens the latter's expertise. As a reliable and experienced partner, Four Data has been chosen to ensure continuity of service for Birdz customers. This strategic acquisition will enable Four Data to consolidate its presence in this sector and strengthen its offerings:
A stronger installation team
The integration of Birdz oil & gaz and its teams has enabled us to expand our installation team.
Average turnaround time (installation or maintenance) anywhere in mainland France in less than 4 weeks!
Contact us today to discuss your requirements with our sales team: 
SilentSoft Europe: international expansion to consolidate leadership position

About Silentsoft: Silentsoft SA is a historical Swiss telemetry company, founded in 1991 as a spin-off from the EPF research laboratory in Lausanne. With thousands of measurement points throughout Europe, including Switzerland, Silentsoft is a leader in telemetry in the energy sector. Based in Morges, near Lausanne, the company plays a key role in data collection and energy management.
The acquisition of SilentSoft SA's european customers portfolio represents a decisive step in Four Data's international expansion. This operation will enable the company to strengthen its position as leader in the field of remote monitoring by expanding its geographical presence. With more than 6,500 connected sensors in more than 10 countries, mainly used for monitoring fuels and liquid fuels, Four Data considerably strengthens its catalogue of solutions. This acquisition will enable Four Data to offer its services to a wider international customer base, while providing centralised and simplified equipment management for its existing customers.
Enhanced expertise and continuous innovation
The strategic acquisitions of Birdz and SilentSoft SA european customer's portfolio not only strengthen Four Data's leading position, but also enable it to increase its expertise and stimulate innovation. By integrating the teams and technologies of Birdz and technologies of SilentSoft, Four Data benefits from an in-depth knowledge of the oil & gas sectors and existing metering technologies to better anticipate the future. This strengthens its ability to develop innovative solutions tailored to the specific needs of its customers. Four Data remains firmly committed to investing in research and development in order to offer cutting-edge technologies and superior services to its customers.
"We are delighted to welcome the BIRDZ team to FOUR DATA. This acquisition will enable us to strengthen our leading position in the market for connected objects for the Oil & Gas industry in France. The acquisition of SILENTSOFT will enable us to address the European market and the German market in particular. Together, we will continue to innovate and offer our customers advanced technological solutions to meet their specific needs."
The strategic acquisitions of Birdz and SilentSoft SA's european customers portfolio mark a decisive turning point for Four Data, strengthening its position in the field of remote telemetry and monitoring. By broadening its expertise and international influence, Four Data is consolidating its ability to offer cutting-edge solutions to its customers, while meeting today's environmental challenges.
In a context marked by the 2G sunset, where traditional communication networks are gradually being abandoned, Four Data is positioning itself as a reliable partner to support companies in their transition to monitoring solutions adapted to the new technological standards. Thanks to technologies such as predictive AI, Four Data offers innovative solutions for operational optimisation, cost reduction and more efficient resource management.
Four Data's approach also has an environmental dimension. By providing accurate, real-time monitoring tools, the company is helping to reduce greenhouse gas emissions, manage resources responsibly and improve energy efficiency. Four Data's customers benefit from an integrated solution that enables them to reconcile operational performance with environmental responsibility.
With the strategic acquisitions of Birdz and SilentSoft SA 's customers portfolio, Four Data is firmly positioned as a trusted partner, offering advanced monitoring solutions tailored to the specific needs of each business sector. Thanks to its expertise, commitment to innovation and forward-looking vision, Four Data is ready to meet the technological and environmental challenges ahead, while offering its customers opportunities for continuous improvement and sustainable growth.